Call Today For Comfortable Dentistry!
Turn To Our Friendly Experts at
Relieving Dental Anxiety in Vancouver
When you're nervous about your dental care, you're much less likely to make appointments for the quality routine care you need. That's why we take relieving dental anxiety in Vancouver seriously. With our gentle, compassionate care at Oasis Dental, you can:
Relax throughout your visit.
Reduce your anxiety about future dental work.
Enjoy peace of mind about your oral health.
Take care of small problems before they worsen.
Call us today at 360-695-3369 to schedule an easy dental appointment. You'll enjoy our clean, inviting waiting room and quiet early hours. Feel free to take advantage of our various amenities to help you relax.
Amenities & Sedation Options
The team at Oasis Dental understands that many of our patients suffer from dental anxiety. That's why we provide cozy amenities like relaxing music, essential oils, and dim lighting, as well as three fantastic options for dental sedation. We'll discuss each one with you and help you choose the option that best suits your needs. They are:
Gentle, mild laughing gas will give you an all-over feeling of relaxation and calm. It begins working immediately to ease your anxiety and allow you to lie back comfortably in our dental chair. The effects wear off just as quickly, so you can drive yourself home with no problem.
Your dentist will prescribe a small pill to take before your exam or procedure. It will make you feel very relaxed and maybe even a bit groggy. The pill's effects will take a few hours to wear off, so a trusted friend or family member will need to drive you home afterward.
We'll use an IV to administer our deepest level of sedation. It will put you in a "twilight" state in which you won't experience any of your dental visit's sights, sounds, or smells. Someone will need to drive you home afterward.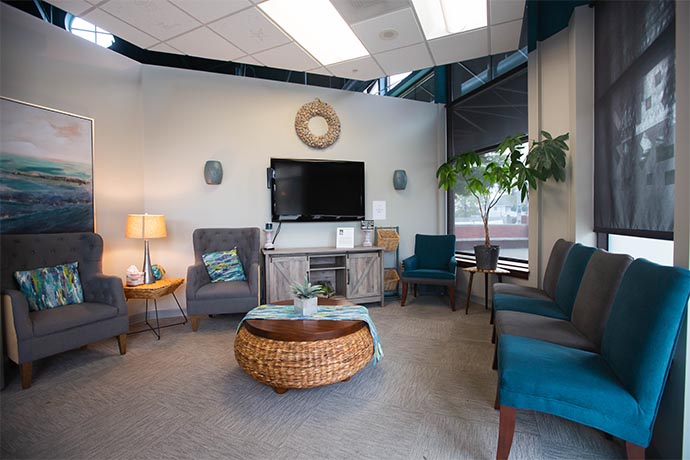 You'll be in good hands with our calming staff. Our entire crew is trained to listen intently to your needs and answer any questions you have about your treatment. We'll make sure you have all the information you need about your dental care and about us before any work is done.
Rely on the experts at relieving dental anxiety in Vancouver so you never have to fear the dentist again! Call Oasis Dental today at 360-695-3369 for an appointment. You can also schedule online.